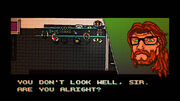 WARNING: HEAVY PLOT SPOILERS FOLLOW!
He works at a movie rental store, a pizza place, a mini-mart, and at a bar. He reveals to Jacket that much of what he sees is not real and instead an illusion, indicating that he himself may not be real. He appears to be a friend of Jacket and gives him free items every time he visits without giving him a say, despite Jacket not showing any care for him. He is later "killed" by Richter, who wears the unlockable rat mask. However, this scene occurs when Jacket's hallucinations begin, so it can hardly be called accurate.
WARNING: SPOILERS ABOUT HOTLINE MIAMI 2 FOLLOW!
Sometime later after Hotline Miami, in 1991, it is revealed that Beard survived and was only wounded by Richter, Beard is now a movie director of a low-budget slasher film about Jacket's murders.
In a leaked gameplay of Hotline Miami 2, was revealed that Beard's real name is Rouven Blankenfeld.
References
Edit