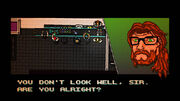 Beard
, also referred to as Nicklas in game files, is a character in Hotline Miami.
Biography

Edit
He works at a movie rental store, a pizza place, a mini-mart, and at a bar. He reveals to Jacket that much of what he sees is not real and instead an illusion, indicating that he himself may not be real. He appears to be a friend of Jacket and gives him free items every time he visits without giving him a say, despite Jacket not showing any care for him.
Events of Hotline Miami
Edit
SPOILER WARNING: PLOT DETAILS BELOW

He is later "killed" by Richter, and subsequently replaced at each establishment. However, this occurs when Jacket's hallucinations begin, so it can hardly be called accurate.
Richter shares the same face sprite as Beard, albeit without the hair and glasses. Whether this has any relevance to the plot or is simply an instance of art asset recycling is unknown.
References
Edit