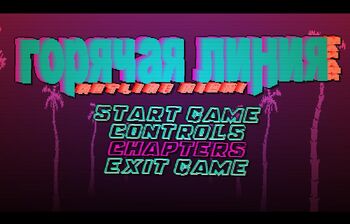 Hotline Miami
has 20 chapters. The Prelude and chapters 1 to 15 are played as the main protagonist,
Jacket
, and the remaining 4 are played as
Biker
. Two additional chapters have since been made available.
Highball
was made available in a patch, and
Exposed
was made available to PS Vita/PS3 owners, and was included in preorders from Get Games.
Hotline Miami 2: Wrong Number has 27 scenes separated in 6 acts, with the prelude as a pilot, the 25th and last scene as a feature film and an additional one as bonus content. The order of the chapters is non-chronological, as the developers chose to have them played in an order that serves the story's dramatic tones and themes. The chronological order of those events is summed up in the timeline page.
Hotline MiamiEdit
Part One: Phonecalls
Edit
Part Two: Questions
Edit
Part Three: Visitations
Edit
Part Four: Connections
Edit
Part Five: Answers
Edit
Extra Chapters
Edit
Hotline Miami 2: Wrong NumberEdit
Act One: Exposition
Edit
Act Two: Rising
Edit
Act Three: Climax
Edit
Act Four: Falling
Edit
Act Five: Intermission
Edit
Act Six: Catastrophe
Edit
Feature Film
Edit
Bonus Content
Edit
Ad blocker interference detected!
Wikia is a free-to-use site that makes money from advertising. We have a modified experience for viewers using ad blockers

Wikia is not accessible if you've made further modifications. Remove the custom ad blocker rule(s) and the page will load as expected.