Spoiler warning!
This article contains plot details and other information that can be classified as spoilers.
Hooker

Hooker in Decadence

Vital statistics

Position
Ex-Prostitute
Age
Unknown; Mid 20s
Status
Deceased (Shot by Richter)

Physical attributes

Eye color
Blue
Hair
Blonde
Hooker
is one of many
characters
in Hotline Miami.
She is first seen in Chapter 3, Decadence, in the same room as the Producer. After the Producer is killed by Jacket, she tells him to "finish what he started" and that she "knew it [her life] would end like this". Instead of killing her, Jacket takes her to his apartment, giving her a new chance. Other characters refer to her as Jacket's girlfriend, implying that they become romantically involved. As the game progresses, Jacket's flat becomes tidier and she starts to sleep in the same room as Jacket in Chapter 8.
She is later killed by
Richter
, who is another masked assassin working for
50 Blessings
. She was killed probably because she was a living witness of Jacket's involvement with 50 Blessings. Jacket later interrogates Richter, and the player is given the option to kill him by choking him to death or sparing him (the latter being canon).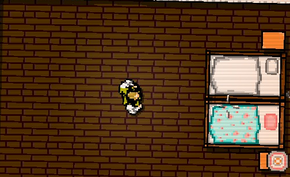 It is speculated that Don Juan in the Masked Figure scenes is actually Hooker, as she is the only one that cares about Jacket and knows he is a killer. This is supported by the box art for the game. Also, the Don Juan mask is unlocked by getting a high score in Decadence, the mission she first appears in.
Dialogue in 'Decadence'
Edit
Hooker: Yeah... Just get it over with...
Hooker: I knew it would end like this *cough*
[Jacket carries her to the car.]
[If Jacket tries to leave without her]
Hooker: Hey asshole, you can't just *cough* leave me here. I got nowhere to go.
Hooker: Why don't you finish what you started?
It's possible that Hooker's corpse was stuffed into Jacket's refrigerator at some point, because after he returns to his home in the intro for Assault, there is blood oozing out of the opened refrigerator and Hooker's body is missing.
She has no lines of dialogue outside of Decadence.