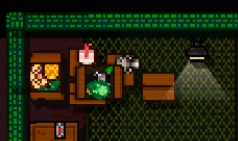 Masks
are a type of unlockable item in Hotline Miami. At the beginning of each
chapter
from the main story, the player chooses a mask for
Jacket
to wear. There are 25 unlockable masks in total (26 in PS3, PS4 and PS Vita), each providing a unique effect, save for the default mask,
Richard
. The effects include, but aren't limited to, making door slams lethal (
Don Juan
), inverting the player's controls (
Nigel
), and giving the player a
drill
at the start of the chapter (
Carl
).
Masks can be unlocked by getting sufficiently high scores, as well as being found in certain chapters.
The player can see whether one already has the mask for a given chapter in the chapter selection screen. Although not all available masks will be shown there (see e.g. Carl in Chapter 8).
Hotline Miami 1 Masks Edit
Jacket's Masks
Hotline Miami 2: Wrong Number Masks Edit
The Fans' Masks
Jake's Masks
Jake (Cobra) - Lethal Throws
Default mask - kills enemies when throwing weapons at them
Irvin (Viper) - Nail Gun
Obtained by completing Hard News - gives a nail gun in the beginning of the level
Dallas (Asp) - Inner Warrior, No Weapons
Obtained by completing Withdrawal - lethal punches and can use nunchucks, no weapons can be picked up
Martin Brown's Masks
Pig Butcher (Pig)
Default mask - grants no special abilities
Richter's Masks
Richter (Rat)
Default mask - grants no special abilities
The inclusion of animal masks was motivated by Dennis Wedin's childhood nightmares that revolved around Alice in Wonderland and The Wind in the Willows.
In Hotline Miami 2: Wrong Number, most of the masks from the first game return, now being used by several NPCs.

A bartender seen in the intro for Down Under can be seen wearing a Panda mask, and someone behind the bar going through the fridge is wearing a Dennis mask. Additionally, the Tony and Jake masks are lying on the bar.