Ad blocker interference detected!
Wikia is a free-to-use site that makes money from advertising. We have a modified experience for viewers using ad blockers

Wikia is not accessible if you've made further modifications. Remove the custom ad blocker rule(s) and the page will load as expected.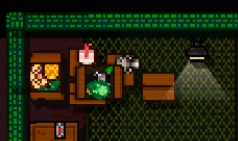 Masks
are a type of unlockable item in both
Hotline Miami
and
Hotline Miami 2: Wrong Number
.
Hotline Miami Masks Edit
At the beginning of most of Jacket's chapters in the first game, the player chooses a mask for him to wear. Jacket has 26 unlockable masks in total (27 in PS3, PS4 and PS Vita), each providing a unique effect, except for the default mask, Richard. The effects include, but aren't limited to, making door slams lethal (Don Juan), inverting the player's controls (Nigel), and giving the player a drill at the start of the chapter (Carl). Masks can be unlocked by getting sufficiently high scores, as well as being found in certain chapters. The player can see whether one already has the mask for a given chapter in the chapter selection screen. Although not all available masks will be shown there (see e.g. Carl in Chapter 8).
Jacket's Masks
Hotline Miami 2: Wrong Number Masks Edit
The Fans' Masks
Jake's Masks
Jake (Cobra) - Lethal Throws
Default mask - kills enemies when throwing weapons at them
Irvin (Viper) - Nail Gun
Obtained by completing Hard News - gives a nail gun in the beginning of the level
Dallas (Black Mamba) - Inner Warrior, No Weapons
Obtained by completing Withdrawal - lethal punches and can use nunchucks, no weapons can be picked up
Martin Brown's Masks
Aubrey (Pig)
Default mask - grants no special abilities
Richter's Masks
Richter (Rat)
Default mask - grants no special abilities
The inclusion of animal masks was motivated by Dennis Wedin's childhood nightmares that revolved around Alice in Wonderland and The Wind in the Willows.
The inclusion of mask abilities wasn't originally intended until Nigel at Devolver Digital mistakenly advertised mask abilities in an interview. Dennaton hastily created all of the first game's mask abilities, and Dennis Wedin expressed regret that none required the player to play differently, and that the Tony Mask was overpowered. This led to the mask system getting completely overhauled in Hotline Miami 2: Wrong Number.
Jake gets his masks from FEDUP delivery service, as a FEDUP box is shown every time he unlocks a mask.
The Fans get their masks from Laughter Masquerade and Funny Stuff, as a Laughter box is shown every time the player unlocks a new Fan.
In Hotline Miami 2: Wrong Number, most of the masks from the first game return, now being used by several NPCs.

A bartender seen in the intro for Down Under can be seen wearing a Panda mask, and someone behind the bar going through the fridge is wearing a Dennis mask. Additionally, the Tony and Jake masks are lying on the bar.
In The Abyss level you can find all the masks worn by Jacket in Hotline Miami