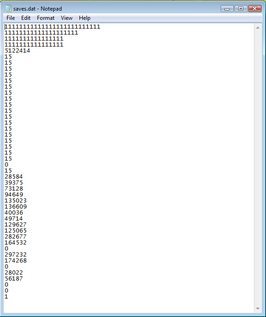 Hotline Miami stores unlocked weapons/masks/levels and level scores inside a single file. This file is located in hotline_miami (game's main directory) with the filename "saves.dat". This file may be easily edited to unlock weapons, masks etc. via the use of a text editor such as notepad.
Before making any edits to saves.dat, create a backup copy of it in a safe location in case anything should go wrong.
Some of the achievement progress is stored in a separate file called achievements.dat. This file is just as editable as saves.dat
Possible errors
Edit
Setting the overall score or changing the unlocked weapons can screw up the weapon unlock progression. The game may end up thinking that a negative amount is required to unlock a weapon.
(Steam) Achievements may not register properly if the achievement's condition was satisfied during save file editing rather than during gameplay.