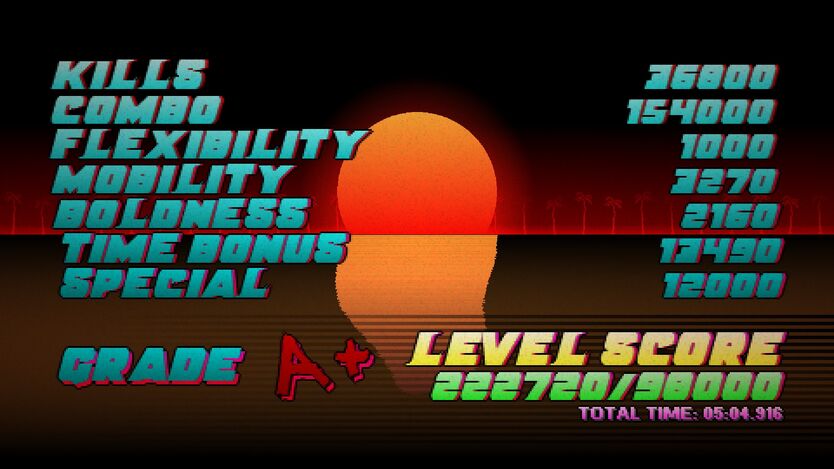 Scoring occurs after most levels are cleared and exited in Hotline Miami and Hotline Miami 2: Wrong Number. A report of the player's performance on the completed level is displayed against a colorful background featuring the sun and ocean. Points are calculated based on level actions.
Hotline Miami Edit
Points Screen
Edit
Killings
Boldness
Combos
Time Bonus
Flexibility
Mobility
Denominator Score (Grade C Score)
Skyline Screen
Edit
Information
Edit
Level: "Name"
Time (In seconds)
High Score
Score
Exposure: Seen by an enemy.
Double Exposure: Seen by two enemies.
Triple Exposure: Seen by three enemies.
Severe Exposure: Seen by 4+ enemies.
Door Slam: Enemy knocked down with door.
Execution: Kill on a down enemy in the "slump" or "starfish" positions.
Mercy Kill: Neck snap a crawling, mortally wounded enemy.
Nx Combo: Kill N enemies quickly. Combo timer reset by knockdowns and lengthened by kills and Zack.
Sharp Shooter: Kill offscreen enemy with gun.
Sneaky Shot: Kill enemy through yellow walls with gun.
Dangerous Pick Up: Weapon pick up during a Severe Exposure
Projectile Kill: Kill with a lethally throwable weapon.
Double Hit: Kill two enemies with one weapon throw.
Triple Hit: Kill three enemies with one weapon throw.
Multi-Hit: Kill 4+ enemies with one weapon throw.
Big Balls: Kill a firearm-wielding enemy with a throwable weapon.
Playstyles (based on Actions)
Edit
Playstyles are awarded in tiers, with higher playstyles 'over-writing' lower playstyles:
0 Generic: Few actions.
1 Exhibitionist: 6+ Exposures
2 Improvisor: 3+ 'pressure pick up' events (not possible in final game)
3 Combo Breaker: 5+ Combos
4 Coward: Sneaky Shots
5 Pitcher: Projectile Events
6 Door Man: 4+ Door Slams
7 Chiropractor: 2+ Mercy Kills
8 Combo Beginner: 4x to 6x
9 Combo Apprentice: 8x to 11x
10 Combo Master: 13x+
11 Executioner: 4+ Executions
12 Sadist: 10+ Executions
13 Coward (2): 6+ Projectile Events
14 Invisible Man: 0 Exposures
A+ (15/15 of the max score for a level)
A (14/15 of the max score for a level)
A- (13/15 of the max score for a level)
B+ (12/15 of the max score for a level)
B (11/15 of the max score for a level)
B- (10/15 of the max score for a level)
C+ (9/15 of the max score for a level)
C (8/15 of the max score for a level)
C- (7/15 of the max score for a level)
D+ (6/15 of the max score for a level)
D (5/15 of the max score for a level)
D- (4/15 of the max score for a level)
F+ (3/15 of the max score for a level)
F (2/15 of the max score for a level)
F- (1/15 of the max score for a level)
Hotline Miami 2: Wrong Number Edit
Sunset Screen
Edit
Kills 1000 points for executions, 800 points for melee, 600 points for ranged (400 for flamethrower and Jake's lethal throws)
Combo
Flexibility Constantly changing weapons helps with score
Mobility Keep moving at all times for a high score
Boldness Being seen by enemies, punching enemies, (Ranged weapons have a negative impact)
Time Bonus
Special (character-specific)
Level Score / Grade C Score
Grade (same as Hotline Miami's, with a new "S grade" above A+ that's roughly 2.6x the Grade C Score)
Total Time (from hours to milliseconds)
S
A-, A, A+
B-, B, B+
C-, C, C+
D-, D, D+
F, F+